To go to the Preferences page, select your name at the top of the Home page, then choose Edit Preferences from the menu that opens.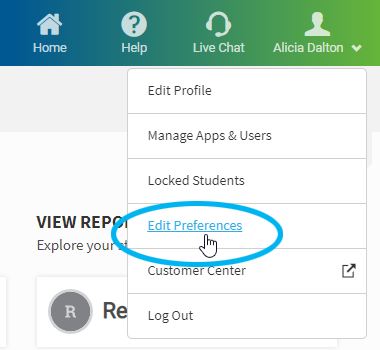 The preferences page lists the preferences that you can set for Star tests. Select a preference to see its current settings and to make changes if necessary.
If you don't have permission to change a preference, you will be able to see the settings, but you won't be able to change them. In general, if permissions have not been changed:
District-level administrators can set district preferences, school preferences for any school, and classroom and student preferences for any class.
School-level administrators can set school preferences, class preferences, and student preferences for their school.
Teachers can set class preferences and student preferences for their classes.
District staff and school staff can see preference settings, but they cannot change them.
To find out how to change permissions, see Viewing and Editing User Permissions.
The preferences are listed in four sections on the page. By default, the sections of preferences that you can change are expanded, and the sections that you cannot change are closed. To expand or close a section on the page, select the heading:


Only preferences that apply to the products you own (or use for your classes) will be listed, so some of the preferences described below may not be available when you view the Preferences page.
When a new school year starts, the settings in your District, School, and Individual Student preferences will carry over to the new year. Class preferences do not carry over because classes are new every year; set class preferences after your new classes are created for each school year. Other preference settings should also be reviewed at the beginning of each new school year so that they can be updated as needed.
District Preferences
School Preferences
Class Preferences
Individual Student Preferences
* LEXILE®, the LEXILE® logo and POWERV® are trademarks of MetaMetrics, Inc., and are registered in the United States and abroad. Copyright © 2023 MetaMetrics, Inc. All rights reserved.