In Renaissance Home Connect, parents may sign up to receive emails when their children complete tests, quizzes, or practice activities at school. Using the Home Connect Email preference, district and school administrators can determine which activities parents may choose to receive emails for.
Parent emails include the type of activity that the student completed (such as a Star Reading test or an Accelerated Reader quiz), the score, and other relevant information (such as points earned or book level for reading quizzes). See the example below for an Accelerated Reader quiz.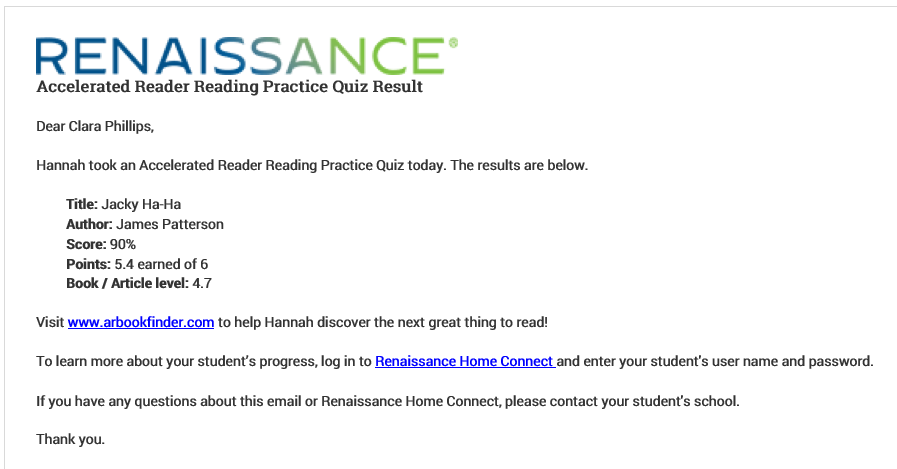 How to get to this preference
To get to the school Home Connect Email preference page, follow these steps:
On the Home page, select your name in the top right corner. Then, choose Edit Preferences from the menu that opens.

Select Home Connect Email under the School Preferences on the Preferences page.

How to set the preference
Who can do this with default user permissions?
District-level administrators, School-level administrators
Only district-level or school-level administrators can set the preference for schools. Other personnel cannot set the preference unless they have been granted special permissions, but they can view the settings.
Your schools are listed. For each school, the available programs are listed. Check a program to allow parents to receive email notifications when students complete activities in that program. For each checked program at a school, parents may then choose to get email notifications for their child's activity.



For example, if you check Accelerated Reader, parents who log in to Renaissance Home Connect may choose to receive an email every time their children take Accelerated Reader quizzes.

If you want to use the same setting for all schools, select Set All above the table.


In the popup window, check the box for each program for which parents should be allowed to receive emails. When you're done, select Apply to All.


Select Save Changes to save your settings. (Select < Back to go back to the Preferences page.)